On Friday evening March 20, the first day of Spring, at 5:58 PM, our first grandson was born.
His name is William Ryusei Grové, and he weighed eight pounds two ounces.  He was nineteen-and-a-quarter inch long.  And he is BEAUTIFUL!
We will call him Ryusei. You pronounce it 'r-you-say, or roo-say. 
Tommy and Yuki arrived at the hospital Thursday, March 19, 2009 at 4 PM Pacific time, and soon after that the contractions began.  Starting at 3 AM on Friday March 20, contractions started intensely, and at just after 6PM Friday night we heard the first cry.  I don't think I will ever forget the expression of awe and joy in my son's face, as we all wept together.  It is hard to believe that it was 30 years ago on March 16 that Katie and I experienced this joy when Tommy was born.  Yuki was a real trooper through the 23 hours, nineteen of it in hard labor.  She looked so serene with the baby lying on her chest, barely one minute after performing this miracle.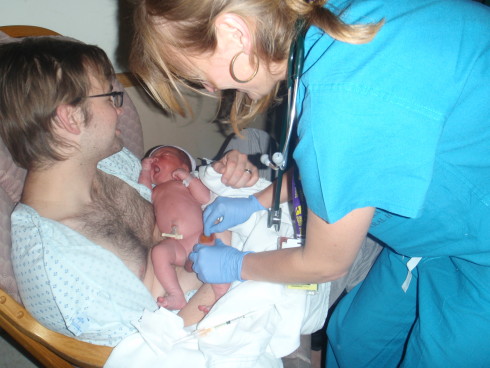 With Yuki being Japanese, they have been struggling with picking a name.  After it was over, Tommy said, "I don't care, after more than 20 hours of this Yuki can pick any name she wants!"
Because of the nationalities of his parents, it took Tommy and Yuki some time to decide on a name that would work in both Japanese and English.  I am not a traditionalist in the baby-naming department, so I was surprised at how their selecting my first name as the first name of their baby touched me.  The name William has been the first name in my family for several generations.  I suppose there is something in each of us that would like to see tradition continue…
The birth was all natural.  You may know that both Tommy and Yuki climbed and summited Mount Kilimanjaro with me in March, 2008, a nine-day extreme hiking trip to the top of Africa at almost 20,000 feet.  Yuki said this experience was MUCH harder!
A new life.  What a miracle.
  **************************************************************************