Update 7
10th November, 2011 – Thursday – Day 7
Well, I tried to upload the video I mentioned in my last post but the Internet at Namche Bazaar at 11,286 ft. was not very reliable – the video did not make it to YouTube.  So, here is a more complete update of the last few days.
On November 10, we awoke in Lebouche; 16,174 ft. very early and started what turned out to be the most taxing day up to then
We trekked through Gorak Shep on to Everest Base Camp, 17,600 ft. then back to Gorak Shep at 16,995 ft. to spend a fitful night at high altitude 16,995 ft.  This was a long and BRUTAL climb and quite a lot to expect of an old guy like me in one day.  The problem was that we did not just gain 1,426 ft. up to Base Camp and then down to Gorak Shep.  The total elevation change was many thousands of feet more than that as we constantly climbed over boulders and up very steep inclines, sometimes for hours without end in sight, just to descend over 1,000 feet to the next valley.
We walked and scrambled for many miles alongside and sometimes literally on top of the lower levels of the Kumbu Icefall and the Kumbu Glacier.  Finally we reached Base Camp, exhausted but exhilarated.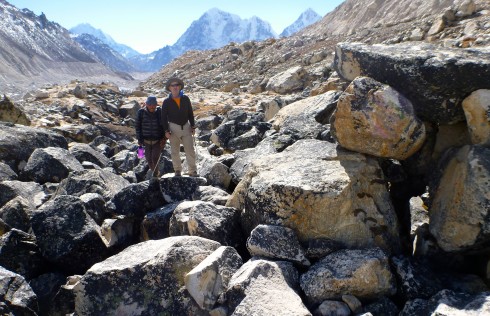 While at Base Camp admiring the unbelievable scenery, the incomparable view of Mt. Everest with the Khumbu Icefall in the foreground and the 27,900 ft. peak of Lhotse creating an impressive cloud against the impossibly blue sky – I have never seen a blue as deep as at this altitude! – as snow blew off the peak, we had a special bonus.  A young Czech Republic couple, Sarka Podlucka and David Cemus had trekked to Everest Base Camp where they were to get married!  I instantly became the official wedding videographer, and Kent took some video with their camera, since the Nepali authorities needed that to verify that the ceremony actually took place.
I was already extremely emotional.  I had just called Katie on my cell phone from Everest Base Camp, and could hardly speak, completely overcome by the emotion and the realization of the enormity of our accomplishment.  And now, here was this very touching ceremony of a couple who have likely made the biggest emotional and physical sacrifice of anyone, to commit to each other.  And they had no friends there.  Pretty soon we were all close friends, and the few climbers and guides and porters who were there became an instant wedding congregation.  I was so teared-up I could hardly see the viewfinder!
Late afternoon, having arrived back at Gorak Shep, I was feeling quite sick, and could not figure out if it was from the altitude (Acute Mountain Sickness – AMS) or just extreme exhaustion.  I went to our room and lay there shivering, with my whole body tingling, and with quite a severe headache, fearing for cerebral edema, and quite certain that there would be no way I could attempt the 18,192 ft. climb to the summit of Kala Patthar the next morning.  Ramesh came into the room, grabbed my camera and took a few beautiful sunset pictures.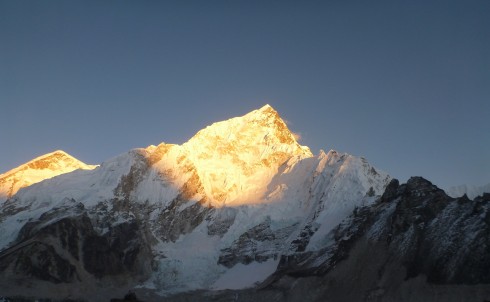 Everest Base Camp is a very special place, and a remarkable achievement.  But the view from Kala Patthar is supposed to be the highlight of this climb, and to reach the summit of Kala Patthar is another achievement not many can claim.  So I was quite bummed!  To top it all, the Czech couple was coming over to see the video, and to have me download their video to my computer, since I promised them that I would compile a nice video of their ceremony and post it to my MobileMe web hosting service.  At the appointed time I got up and went to the dining room where we had a great re-living of the beautiful ceremony in a most beautiful place.
We have not had a shower for five days, and I am sure a hot shower would have helped.  However, with the facilities quite basic I decided to pass.  I went to bed by 8 pm, still shivering, and unable to sleep.  I am sure I dozed off during the night, but sleep was very elusive.
11th November, 2011 – Friday – Day 8
At 6 am I heard Kent move around the room, and asked where he was going.  "Kala Patthar", he said.  I lay there, unable to process what that meant.  Finally I said, "I don't understand.  Can you tell me what's happening?"
"Today is Kala Patthar", he said.
I wondered about that some more, and then realized what it meant.
"Oh shit", I said, and jumped out of bed, and got dressed as quickly as I could, feeling quite dizzy.
After a good breakfast I felt better, and we started our climb up the almost sheer mountainside of Kala Patthar.  We were led by Ramesh, and accompanied by one of our porters, Bal.  Bal offered to take my backpack, and Kent offered significant moral support.
We climbed to the 18,192 ft. summit for the most incredible views.
We sat at the peak of Kala Patthar, a five-foot wide pinnacle with sheer drops of more than 1,000 feet on three sides.  We were in the middle of a complete circle, surrounded by the highest mountain peaks in the world; of Mt. Everest 8,848m (29,028 ft.), Mt. Lhotse 8,516m (27,939 ft.) Mt. Nuptse, 7,855m (25,771 ft.), Mt. Pumori 7,161m, Mt. Changaste 7,550m, Khumbutse 6,665m, Mt. Amadablam 6.856m, Mt. Thamserku 6,723m, Mt. Kantega 6,979m, Mt. Kusum Khangaru 6,367m, Mt.Kongde 6,011m, Mt. Tawache peak 6,367m, Mt. Cholaste 6,335m.
To see this view was for me a lifetime high, likely impossible to ever match in whatever time I have left on this earth.
My sickness was completely gone now, and I literally felt on top of the world!
We climbed back down to Gorak Shep and continued our trek down continued our down through Labouche and Thukla, to spend the night in Pheriche, 4,243 m. (13,900 ft.).
12th November, 2011 – Saturday – Day 9
Another brutal day of severe changes in altitude and steep up-and-down climbs brought us through incredibly beautiful scenery and the villages of Pangboche, 3,985 m. (13,000 ft.) and to Tengboche, 3,867 (12,600 ft.), where we had lunch.  We were almost at our physical limit, but a late lunch rejuvenated us for the final push down to Namche Bazaar 3,440m, (11,286 ft.) – in total, an almost nine hour brutal trek of severe climbs and descents.
This was a full day's very hard trekking.  Kent and I decided to try to do what would normally be three day's trekking in two days in order to surprise Roger and Pete at Namche Bazaar.  While we were supposedly LOSING altitude, the gains and losses as we pushed really hard to complete this two-day trek almost did us in!
We were very happy to meet up with our friends, Pete and Roger at the Kamal Hotel, and had a great celebration!  We were welcomed back to the Kamal Guest House by the lovely family who own this "hotel".
One of the most amazing things of this experience was the wonderful disposition of the Nepalese people.  Always a warm smile.  Always a special welcome.  And I cannot say enough about our guide, Ramesh Kharel, and our Sherpa porters, Shiva Katuwal, Tika Basnet and Bal Kumar Basnet.  Without the wonderful encouraging smile, never-changing friendly, supportive demeanor, I likely would not have made it to Everest Base Camp, up Kala Patthar, and back down to Namche Bazaar to meet up with our friends.
We were sad that Mina, the daughter of Mr. Kamal, the owner of the guesthouse was not in Namche.  She was so warm and friendly when we stayed at the Kamal on the way up.  On the third morning of our trek, (we had a conditioning/acclimatization day in Namche), just before we left or a hike up to the Everest View hotel, I Skyped my son, Tommy, his wife, Yuki and our grandson, Ryusei in Saigon, Vietnam.  Mina has a cute little daughter, and the two kids made quite a connection on the Internet, giggling at each other.  Mina was convinced that we could arrange betrothal, and she was quite impressed to be talking with and seeing Tommy and Yuki, and that I have a Japanese daughter-in-law.
In spite of sniffling and coughing through the night, using my pee bottle at least five times – amazing that one can pee about one-and-a-half liter in one night! – I had a wonderful rest and woke the next morning totally refreshed and ready for the two days' trek to Lukla.
13th November, 2011 – Sunday – Day 10
We were so looking forward to a change in pace regarding breakfast this morning.  We have had porridge every morning for the past nine days in order to have enough "fuel" for a full day of trekking.  We all felt that we would throw up if we had the huge bowl of porridge one more time.  The next thing we knew a huge bowl of porridge appeared in front of each of us on the table.  We protested mildly to Ramesh that we really were hoping for eggs or something else this morning, but politely accepted and started forcing the porridge down.  What was our surprise when in front of Ramesh appeared an order of two fried eggs and toast!  We all laughed and shared the irony of the moment, but gave Ramesh a hard time for days afterwards.
We were now ready to trek to Jorsale and as we gathered our backpacks and poles, Mr. Kamal offered us each a complementary cup of coffee.  We accepted, and no sooner were we finished enjoying our last cup of hospitality from these good people, or Ramesh had us line up together, side-by-side.  Mr. Kamal approached and hung a prayer shawl around each of our necks, while offering a blessing to each of us for the rest of our journey.  How special!
Kent and I spent the next two hours in an Internet Café, since the Kamal Wi-Fi was down, and I wanted to post the short video I put together the night before.  After almost two hours I realized the video did not complete uploading to YouTube.  Roger and Pete took off with Shiva more than an hour before.  I paid the $10.00 for the connection, and after a slice of pizza in the local bakery we took off for Jorsale.
We caught up with Pete and Roger after a brisk one-hour hike, mostly downhill.  We were now at less than half the altitude of Kala Patthar, and we were feeling fantastic and so strong!  Amazing what oxygen will do!
We concluded the rest of the morning's trek at a leisurely pace, stopping often to admire the beautiful scenery, crossing suspension bridges and passing the amazing Yak and donkey caravans which are the only mode of transportation, other than the remarkable men and a few women who carry huge loads on their backs up the mountain.
We arrived at Jorsale, 2,930 m. (9,6109 ft.) and had an excellent lunch at the Nirvana Garden Lodge, a lovely place with beautiful gardens, and comfortable rooms.  We all agreed that we had the best night sleep yet.
14th November, 2011 – Monday – Day 11
We left early for a beautiful hike, mostly downhill to Phakding, 2,640 m. (8,660 ft.).  This was where we spent our first night on our way up the mountain.  We stayed at the International Trekkers Guest House that night, and we where we were welcomed back like family by the lovely young family who runs this lodge.
Like in Namche at the Kamal lodge, everyone was asking about Al and Kathy.
I should explain what happened to our fellow trekkers on the way up.
Climbing, trekking, hiking.  Call it what you may, this adventure was extremely difficult.  Negotiating severe ups-and-downs, scrambling over boulders, climbing endless ancient steps built by generations past – since the mountain sides would be too steep to crawl up or down without them – all the while at extreme altitude, was an incredible test for all of us.
The climb from Namche Bazaar, 3,440 m. (11, 280 ft.) to Tengboche, 3,867 m. (12,680 ft.) was a total gain of 1,400 ft.  That is quite deceiving, since I am certain the TOTAL altitude change, climbing up and down these steep mountains, must have been many times that.
On the morning of the fifth day, Pete and Roger decided to forego the significantly greater altitude and climbing difficulty, and seek a different adventure.  Ramesh drew up a route for them to hike while Kent, Al, Kathy and I continued up the trail.  Their adventures and their excitement about their journey the next four days is another chapter.
If we thought the trek from Namche to Tengboche was severe, we had a major surprise waiting for us the next day.  The climb that fifth day from Tengboche to Pheriche, 4,243 m. (13,929 ft.) was even more taxing at this higher altitude (a gain of 1,233 ft. this day) with even steeper mountainsides.
Al has been suffering from sinus and other respiratory problems almost from the beginning.  Never complaining, he forged on, each step of this day certainly agony for him.  I could tell he was suffering, and admired him immensely for the courage and mental strength to keep on going.
Cold and dark, in a small guesthouse at almost 14,000 ft. in the Himalayas, Al lay on his bed in the room next to Kent and mine, and was coughing severely.  Just as I told Kent how worried I was for Al's health, Kathy came into our room and told us that they have decided not to continue.  Kathy and Ramesh took Al to the hospital in this small village where Al was diagnosed with severe Acute Mountain Sickness (AMS).  He was kept at the hospital, and the next morning Al and Kathy were evacuated by Helicopter to Kathmandu where Al was admitted to the hospital.
I am happy report that Al recovered.  After he was discharged from the hospital we were able to talk to him as they were making their arrangements to return to the US.  The remarkable coincidence was that we were on top of Kala Patthar at 18,200 ft. when we got that call!
15th November, 2011 – Tuesday – Day 12
This morning we left for Lukla from Phakding and very much enjoyed the familiar scenery at which we marveled on the way up the mountain.
After a four-hour trek in thick fog, with some surprising elevation changes, we arrived at Lukla, 9,285 ft. from where we hope to leave for Kathmandu tomorrow morning.  Unfortunately the weather conditions have not been very good, and we are likely to get stuck here for a few days.  Our flight back to the USA is in the 20th, so we have some leeway.
We all agree that this has been the most inspiring journey we have ever undertaken.  For me, the spiritual and emotional accomplishment far exceeds the physical challenge.
Every day as I looked at the splendor of this beautiful country, day-by-day surrounded by sheer mountains all exceeding 25,000 feet, a verse from Psalm 121 constantly went through my head, "I will lift up mine eyes unto the hills…"
What inspiration these mountains gave me!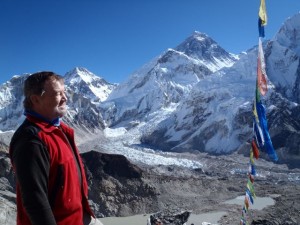 Posted at Lukla, Nepal
November 15th, 2011
Thanks to Kent for proof-reading this post and suggesting some helpful changes and additions.